ABOUT US
Nakhodka Marine Trade Port is one of the largest ports in the Russian Far East. The port is located on the northwestern shore of the Sea of Japan, in Nakhodka Bay in the eastern, non-freezing part of the Peter the Great Gulf. It has year-round navigation. Trans-Siberian Railway serving the cargo routes between Europe and Asia connects the port with the whole of Eurasia.
The port has an area of 3.5 square kilometers on both sides of Nakhodka Bay. We operate 15 cargo and 2 support berths with depths of 8.5 to 11 meters. All berths are universal and can handle a full range of cargo except fluids. Up to 15 vessels can moor simultaneously; maximum vessel length is 230 meters, maximum beam is 32 meters, and maximum draft is 11 meters.
The port operates two main production terminals, Coal Terminal 1 (main terminal) and Universal Cargo Terminal 2 (a terminal at Cape Astafiev).
The port is equipped to handle 10 million tonnes of cargo per year and unload up to  517 cargo rail cars per day. It has over 300 thousand square meters of warehouses. Coal and rolled steel products comprise most of our cargo.
Apart from Russia, Nakhodka Marine Trade Ports serves a wide range of destinations in Asia-Pacific. We ship cargo to China, Japan, North and South Korea, Indonesia, India, Taiwan, Thailand, Vietnam, Bangladesh, Malaysia, Philippines as well as the U.S., Canada, Mexico, Peru, Saudi Arabia, Turkey and Africa (Kenya and Tanzania).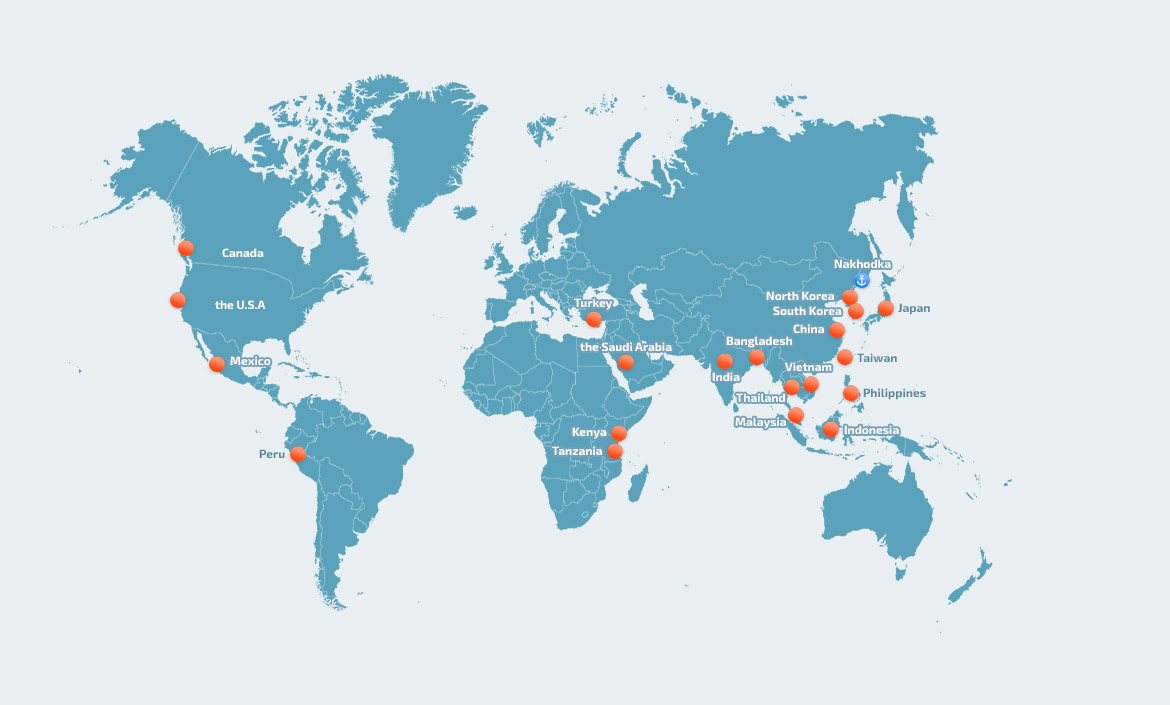 Nakhodka Marine Trade Port is working on a comprehensive upgrade program to increase its capacity from the current 10 to 12-14 million tonnes per year.
However, environmental safety of cargo transfer operations and operational efficiency remain the key priorities of Nakhodka Marine Trade Port. We strive to be the leading port in the Russian Far East by the use of the best available technologies to minimize our environmental footprint.
Nakhodka MTP has its own seaport fleet supporting the berthing and unberthing of cargo vessels from port berths. The fleet includes three tugboats: the flagship 2600 KW Pyotr tug, the 2100 KW Ermak azimuth tug, and the 2580 KW Helium tug.